Hello, friends – hope that your week is off to a great start.
Tonight, I'd like to bring my Sound Bites feature back from the dead. I did this for a few weeks last year, and have no idea why I stopped. Everyone loves hearing about new music, right?
Up this week are three new albums from Alabama Shakes, Jack White and Santigold.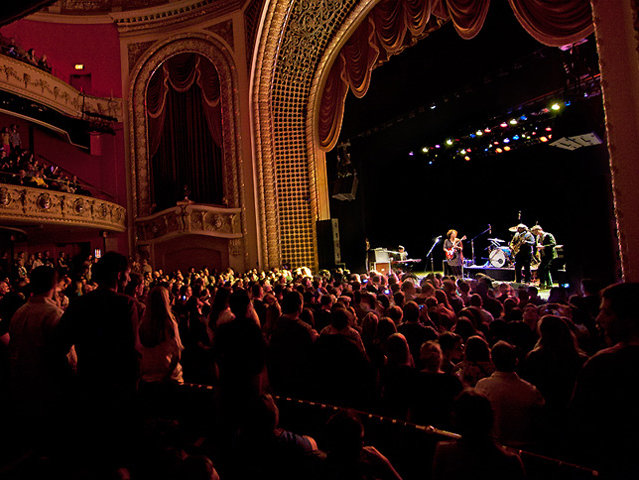 Alabama Shakes' debut album Boys & Girls, is available now. The band has a definite retro sound, and the lead singer has a killer voice. You will immediately want to sing along with her. The Shakes played one of our venues at work, and sold the place out!
Sample: Alabama Shakes – "Hold On"
Jack White (formerly of The White Stripes) has gone and done it, it being his own album Blunderbuss. I haven't had time to listen to the whole thing from start to finish, but like what I've heard so far. If you loved the Stripes, you'll probably like this quite a bit: Folky, with jangly melodies, and the same overall weirdness of his former project.
Sample: Jack White – "Love Interruption"
Santigold is pretty rad. She's a solid pop vocalist, but her music is more psychedelic and experimental, kinda like M.I.A. meets Gwen Stefani's solo material. Her music could be a staple on anyone's cardio playlist.
Her new album, Master of My Make Believe, isn't in stores until May 1st. However, you can now stream the whole damn thing at NPR music. And stream I shall, on repeat, tomorrow at work. Check it out here!
Sample: Santigold – "Disparate Youth"
You do the talking: What are you listening to lately? I've been all over the place, listening to music both old (way old) and new. Oh, and we booked a Meat Loaf show at work, so I've listened to my fair share of "I'd Do Anything for Love (But I Won't Do That)," and "Paradise by the Dashboard Light." Yup. I can only assume that the Loaf's live show will be most epic.